​​Jim Beishline Trio
Jim Beishline Trio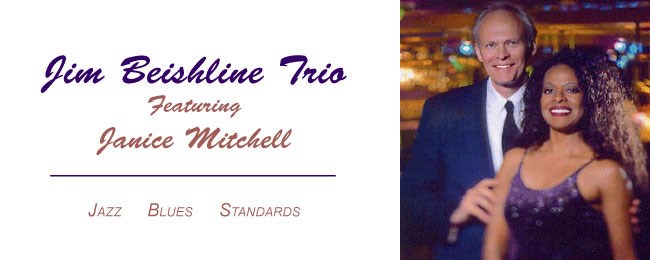 Jim Beishline
is recognized for his superb style exhibited in his fine arrangements and piano perfomances.
He has toured the country with several major names, during the course of his career, but now seems to prefer working with his quartet, trio, or as a solo pianist.
Beishline's piano styles span the full spectrum from blues to jazz and his versatile talent is featured on many local recordings.
Recording artists that Jim has performed with include the following, and many more:
Muddy Waters, Mike Civisca, Spyro Gyra, Tony Galla, Chuck Berry, Sal Andolina, Billy McEwin, Danny & The Jrs., Chuck Harrington, Wendall Rivera, Patty Coyle, Jeff Hackworth, Rick Strauss.
Jim Beishline was awarded the honor of being voted the Top Jazz Group by Buffalo Music Awards 2000
---
Janice Mitchell
Jazz and Blues
Five world tours over a five year period as a backup singer for Ray Charles (a Raelette)
Backup vocals for live performances with Stevie Wonder, Fabian, Yvonne Elliman, (and many more)
Has recorded with Jimmy Smith. Ray Charles, Nancy Wilson, Les McCann, Melba Moore...(the list goes on!)
Performances as singer/dancer showrooms of Reno, Lake Tahoe, and Las Vegas casinos, as well as cruise ships.
Movie credits include Sidney Poitier's "Uptown Saturday Night" and "The Idolmaker"
Janice was inducted into the Buffalo Music Hall of Fame 2000
- Buffalo and WNY's most trusted name in entertainment since 1968 -